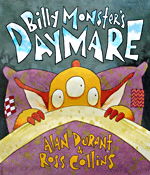 Billy Monster's Daymare
Alan Durant
Oxford University Press
HB ISBN 978-0-19-272649-0
PB ISBN 978-0-19-272650-6
Billy Monster is scared!
But what is keeping him awake?
What can be frightening him so much?
And how will Daddy Monster find a way to help Billy sleep soundly through the day?
Set in a topsy-turvy, monster world, this warm and funny story is perfect for raising a smile and chasing away bedtime fears.
Winner of the 2008 Royal Mail Book Awards and the 2009 Portsmouth Book Award!
Ross and Alan were honoured when 'Billy Monster's Daymare' was chosen to be transformed into a Living Paintings title for children who are partially sighted and blind. Children can feel all of Billy's lumps and bumps on specially sculpted pages, read the text in braille and have it read to them by Alan Davies. Please check out the Living Paintings website to find out more about how you can help this amazing charity. www.livingpaintings.org
"Oh, I loved this book. I couldn't stop laughing at the way that every fear that a child has is reversed for Billy... It's a superb way to get children talking about their fears rather than bottling them up..." The Bookbag