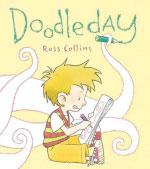 Doodleday
Ross Collins
Gullane Children's Books
HB ISBN 1862338167
USA HB ISBN 978-0-8075-1683-6
PB ISBN 1862338477

Mum has just one thing to tell Harvey on Doodleday - no drawing allowed!
But surely one little fly won't hurt? Not until Harvey's fly comes to life and starts to wreck the kitchen, that is!
What can Harvey draw that will catch it? A spider, of course. But the spider proves to be even more trouble.
Only one thing is capable of stopping Harvey's rampaging doodles...
"Splendidly illustrated, this is a book to pore over." Independent on Sunday
"A nifty heir to Harold and the Purple Crayon" Kirkus Reviews
"Collins's illustrative gifts are never in doubt as he romps through the tale of young Harvey, who discovers that on Doodleday, every creature he draws with his crayons comes to life. Collins's narration is stylish... and the Sorcerer's Apprentice-like mayhem that erupts as Harvey tries to clean up his mess supplies plenty of mock horror; the contrast between Collins's cheerful cartoon neighbourhood and the scribbly crayon animals wreaking havoc is easily the most rewarding part of the book." Publisher's Weekly
"What a great book to stimulate creative imagination and to show the power of the pencil! I think Children's Laureate Anthony Browne would heartily approve of this book in his campaign to get everyone drawing!" Readingzone
"There are some picture books that I gravitate to so strongly, it's like they are the Sun and I am a speck of planetary debris. Doodleday's little tale will strike a chord with every kid who has ever taken pencil and paper into his own hands to tell the story his own way, and the art will inspire that kid to keep drawing. Yeah, I love this." PinkMe
"This wonderful picture book will delight young artists and make readers of all ages laugh out loud. With its expressive illustrations and its unique story, this is a book that children will want to read again and again." Through the Looking Glass