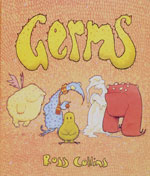 Germs
Ross Collins
Bloomsbury
HB ISBN UK 0-7475-6965-7
HB ISBN US 1-58234-926-6
PB ISBN UK 0-7475-7142-2

When our hero Pox, a young Chickenpox germ finds himself in the germ academy, he finds out that infecting is not really for him! Try as Pox might, he just can't work up the enthusiasm for sickness that his classmates - Snot, Rash, Pus and Scab - so obviously feel for the task. And when Pox is sent to ruin Myrtle's birthday, things don't work out as planned for Myrtle, Pox or indeed his horrible classmates. A fantastic and utterly bizarre picture book by the incomparable Ross Collins.
Junior Library Guild Selection
"Teachers will find this an invaluable book during health topics...Collins' unusual illustrations will have kids enraptured...the detail and style...will capture the imagination of slightly older children as well..a book every reader will want to revisit." Write Away!
"Who would have though a story about the immune system could be so entertaining?... This mixes facts with a fabulous 'yuck' factor" BBC Parenting
"a great read-aloud. Young science fans will love it." Kids Lit
"A great, light-hearted introduction into germs and how they affect us." Kid's Domain
"Infectious" Reader's Digestion