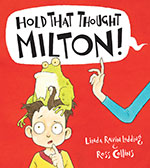 Hold That Thought, Milton!
Linda Ravin Lodding
Parragon
PB ISBN: 978-1472344007
Milton's pet frog Burp has disappeared!
But on the day before Aunt Lulu's wedding, nobody's got time to listen: "Hold that thought, Milton!"
Milton's head is so full of worries that it isn't long before the thoughts start trying to escape - and the effect is more than a little FROGGY!