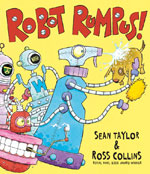 Robot Rumpus
Sean Taylor
Andersen Press
HB ISBN 9781849396288
My mum and dad are busy. So just last night they said, "We decided to buy these robots, to get you into bed."
I thought they must be joking. But dad switched the robots on. Mum said, "They're the latest models. What could possibly go wrong?"
WINNER OF THE SCOTTISH CHILDREN'S BOOK AWARD 2015!
"I can't say who enjoyed this story more, myself or the children. We were all in stitches and the children had tears streaming down their faces as they laughed so hard I can only be thankful they had been to the loo before story time. The story itself is brilliant, told in a delightful rhyming text. The pictures are perfectly matched, illustrating each scene so that a child could appreciate the story from the pictures alone. Ross Collins has really brought the whole story to life with his beautiful, colourful illustrations, certain to enchant any child. I can't imagine any child who wouldn't enjoy this story, whether they like robots or not. It is simply one of the funniest children's books we have ever found. This is one of those books you just have to get completely involved in, using robotic voices and movements, crying out shrill alarms, and everyone joining in to shout out the parents scream of dismay. I can't recommend this book highly enough. Your children will love it."
The Bookbag
All illustrations on Ross Collins.net copyright of Ross Collins.
No illustration to be used without the permission of Ross Collins or the publisher.
site by defreeze