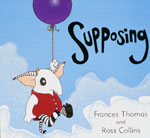 Supposing
What If? (US)
Frances Thomas
Bloomsbury (UK)
Hyperion (US)
UK HB ISBN 0-7475-3064-5
US HB ISBN 078680482-3
UK PB ISBN 0-7475-4173-6
A little monster has a terrible nightmare!
The house is on fire and the little monster is falling into a black hole with a spider following. But Mother is on hand to soothe away all fears and remind the little monster of the many happy things they can do together.
A loving and wonderful story about how to overcome even the most scary of dreams.
Winner of:
The Blue Ribbon (US)
Scottish Arts Council Children's Book Award
Shortlisted for:
Young Hoosier Book Award
Blue Peter Award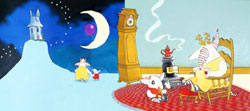 "Simple, warm, lyrical, profound and nice-looking, this is an affectionate depiction of a mother's power to dispel even a child's most lurid nightmare. A book to sling around you like a quilt." The Herald
"What If? Offers one of the most photogenic - illustrationogenic? - beasties we've seen... and he exudes the irresistible charm of vulnerability. In Collins' oversized illustrations, the clean sweeps of colour balance the creative monstrosities of mother and son, who evince bug eyes worthy of Victoria Chess, but their benign anteaterly snouts, stripy ears, feet and tails, and friendly knobbly horns make them a species unto themselves, cuddly and homely and absurd. Little Monster's body language is as eloquent as his spoken words. Gently imaginative without being coy or fluffy, this is a solid reminder of parental love and security that will be warmly welcomed by sleepy little monsters." The Bulletin
"With the little monster, Supposing introduces a beguiling new character to the world of children's picture books." Education Today
"Collins' striking illustrations combine a Winnie-the-Pooh cuddle factor with a dark imagination reminiscent of Tenniel's drawings for Alice." TES