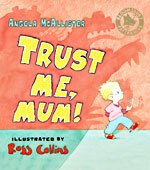 Trust Me Mum!
Angela McAllister
Bloomsbury
HB ISBN UK 0-7475-7301-8
HB ISBN US 1-58234-955-X
A first visit to the shops, without a parent coming along, is a very big adventure for Ollie. Can he follow his mother's instructions to the letter, or will he find diversions to distract him? And is that a witch on the bike and three bears looking for a fight?
A visit to the shops will never be the same again after reading this fun-filled, boisterous romp of a book.
"A spot on tale of a child overcoming fear... a buoyant read" Independent
"Ross Collins' illustrations are as bold and imaginative as Ollie himself in this cheerful, positive story about confidence, trust and letting go" Scotsman