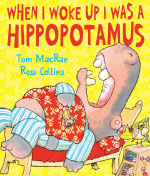 When I Woke Up I Was a Hippopotamus
Tom MacRae
Andersen
HB ISBN 1849390738
PB ISBN 1849393591
"When I woke up I was a hippopotamus.
Yawning in the morning, I raised up my sleepy head,
Then took one look out of the window
and got straight back into bed."
What would a boy's day be like if he was actually a Hippopotamus... a Robot... a Statue... a Monster... a Monkey... a Rocket... a Giant...
a nightmare for his parents that's for sure!
So what will they be?
Winner of a White Raven Award 2012 (Germany)
"Tom MacRae is such a talented and sensitive writer. I love this book. I only wish he'd written it thirty years earlier then I could have loved it as a child." Matthew Cain, Culture Editor, Channel 4 News
"The sheer energy of this gorgeous book perfectly encapsulates the enviably flexible imaginations of young children. Joyously illustrated, this rhyming story is a delight. If you haven't got a youngster to read it to, then borrow one for the weekend." The Daily Mail
"This is a great story for toddlers and young school children. It works well on a one to one basis, but I think it would also go down a treat being read aloud to a group of children. ..it obviously made an impression on my four year old as she'll now say 'I'm only pretending... just like the hippopotamus boy!'" The Bookbag
Librarian's Book choice "An exuberant account of imagination running wild. Superb...illustrations with dazzling changes of perspective and hugely characterful depictions of each new reincarnation that the little boy imagines for himself really bring this story to life. The rhyming text is a real pleasure to read and I can see that it will become a class favourite." Readingzone.com