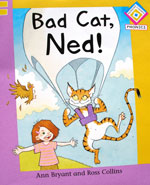 Bad Cat Ned!
Anne Bryant
Franklin Watts
HB ISBN 978-0-7496-7123-5
Ned the cat got on the bus.
"Get off this bus! Bad cat, Ned!"
Follow a very annoyed little girl as her cat's behaviour goes from bad to bizarre!
This Phonics book supports the teaching of synthetic phonics, allowing children to read words in context.