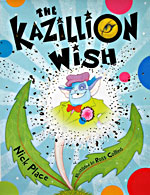 The Kazillion Wish
Nick Place
Chicken House
HB ISBN 1-904442-51-X
PB ISBN 1-90442-77-3
Ainsley and Harlan Banana have a down-to-earth problem - their dad is seriously lonely. Fortunately, they do have a solution - just not a simple one.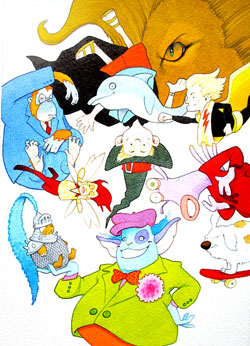 What they need is an 'also-mum'!
According to the calculations of Zootfrog the frongle (not ever to be confused with a fairy!) they need a 'Kazillion Wish' - one of the biggest, most hard-to-earn there is. Now the pair face a thrilling out-of-this-world quest aided by the crazy Zucchini Spacestation, Lightening Rod, a dashing boy superhero and purple Martian twins with a need for speed!
It's a wish come true - an irresistible, loopy, laugh-out-loud adventure.
"Far-fetched in the best possible way..." Irish Times