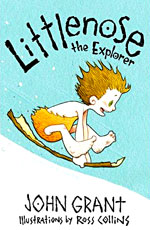 Little Nose the Explorer
John Grant
Simon and Schuster
PB ISBN 978-1-41692-668-9
Littlenose lives long, long ago, when fierce wild animals roam the land, and it is very cold. His home is a cave, his clothes are made of fur and his pet is a woolly mammoth called Two-Eyes.
The Neanderthal winter lasts for months and months; it's a great time to go exploring. With ice, snow, mist and fog all around, there' lot's of fun to be had - from sledging and hunting to rescuing strange tribespeople from the snow. But Littlenose's curiosity also leads him into trouble - somehow he just can't seem to steer clear of it!
A re-issued classic.