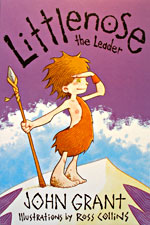 Littlenose the Leader
John Grant
Simon and Schuster
PB ISBN 978-1-84738-200-9
Littlenose lives long, long ago, when fierce wild animals roam the land, and it is very cold. His home is a cave, his clothes are made of fur and his pet is a woolly mammoth called Two-Eyes.
Littlenose loves to be at the front, whether throwing spears, firing a sling or dancing with a music stick. But with cold and hungry warriors, battling tribesmen and wild animals roaming a bout, he is more likely to head towards disaster. He simply can't avoid it.
A re-issued classic.