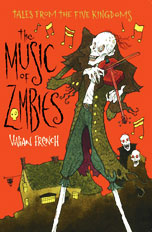 The Music of Zombies
Vivian French
Walker Books
ISBN-10: 1406319082
ISBN-13: 978-1406319088
The fifth book in Vivian French's comic fantasy series Tales from the Five Kingdoms. In this hilarious new story, Gracie and Marcus, our much loved hero and heroine are faced with a zombie who is not only horribly evil but an excruciatingly bad musician.
It's nearly Cockenzie Rood Day and Prince Albion wants a grand celebration. But his plans are ruined when he is kidnapped by the terrifying zombie Fiddleduster Squint, who wants to get into the Five Kingdoms. When Squint is refused entry across the magical border he and his creepy shadow go in search of giants with the intention of tricking them into causing all sorts of mayhem. It's a race against time but Gracie Gillypot, Prince Marcus and Gubble the troll manage to get there first and avert disaster. Albion can have his party after all, the giants are left in peace and our heroes return just in time to celebrate Queen Bluebell's birthday. What's more, as the series nears the end, it's clear that Gracie and Marcus are headed for a royal romance...
View Vivian French reading an extract from this book on the STV SoapBox website!