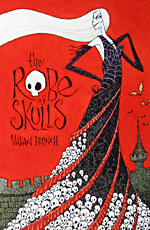 The Robe of Skulls
Vivian French
Walker Books
PB ISBN 978-0-7445-8361-8
The sorceress Lady Lamorna has her heart set on a new robe. To get it she will stop at nothing, including kidnapping, blackmail and more than a little black magic. But she reckons without the heroic Gracie Gillypot, not to mention a gallant if rather scruffy prince, two chatty bats, the wickedest stepsister ever, a troll with a grudge - and some very Ancient Crones.
High above the mountain village of Fracture, trouble is brewing.
An exuberant, fast-moving and wildly entertaining tale, with a cast of characters who are good, bad and very, very ugly, The Robe of Skulls will enthral those who like their stories just a little different.
Shortlisted for the 2008 Royal Mail Book Awards
"24-carat gold. I forgot reading could be this much fun."Philip Ardagh
"A magical adventure for children and adults alike. A genuine page-turner. Witches, trolls, princes and heroes. What more could you want? I loved it! James Mac Kenzie, CBBC's Raven