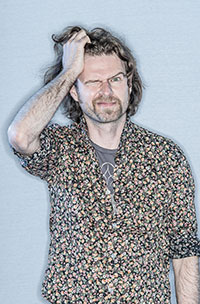 Ross Collins was born in Glasgow, Scotland quite a while ago. At that time would eat anything and resembled a currant bun.
As he grew up he was fond of drawing, the bionic man and precariously swinging backwards on chairs.
For reasons best known to themselves, Glasgow School of Art gave him a first in Illustration when he graduated in 1994. In the same year he won the MacMillan Children's Book Prize for his first book 'The Sea Hole'.
Ross spent a few years in London drawing things for publishers who were convinced that he knew what he was doing. He then returned to Scotland where he has illustrated over 100 books and written a dozen or so. Children in over 20 countries seem to like them.
When Ross isn't drawing children's books he can be found doing character development things for animators like Laika and Disney, theatre posters, Festival Talks and other daft things.
London's Royal National Theatre adapted Ross' book 'The Elephantom' into a play with puppets and stuff. The play has run to acclaim and packed houses at the National and the West End.
Ross still enjoys precariously swinging backwards on chairs. He lives in Glasgow with a strange woman, a small child and a stupid dog.
Awards include
'There's a Bear on My Chair' won the inaugural Amnesty International Honour and the UKLA Award. It was short listed for the CILIP Greenaway Medal.
'Dear Vampa'and 'Robot Rumpus!' both won the
Scottish Children's Book Award
'When I Woke Up I was a Hippopotamus'
and 'Busy Night' both won the White Raven Award
'Billy Monster's Daymare' won the
Royal Mail Book Award
'The Elephantom' was shorlisted for the
Kate Greenaway Medal
'Alvie Eats Soup' won the Oppenhiem Award. (US)
'Supposing' won a Blue Ribbon Award(US)
and the Scottish Arts Council Book Award
and was shortlisted for the Blue Peter Book Award
and the Young Hoosier Book Award
'The Sea Hole' won the
MacMillan Prize